International MBA – ENG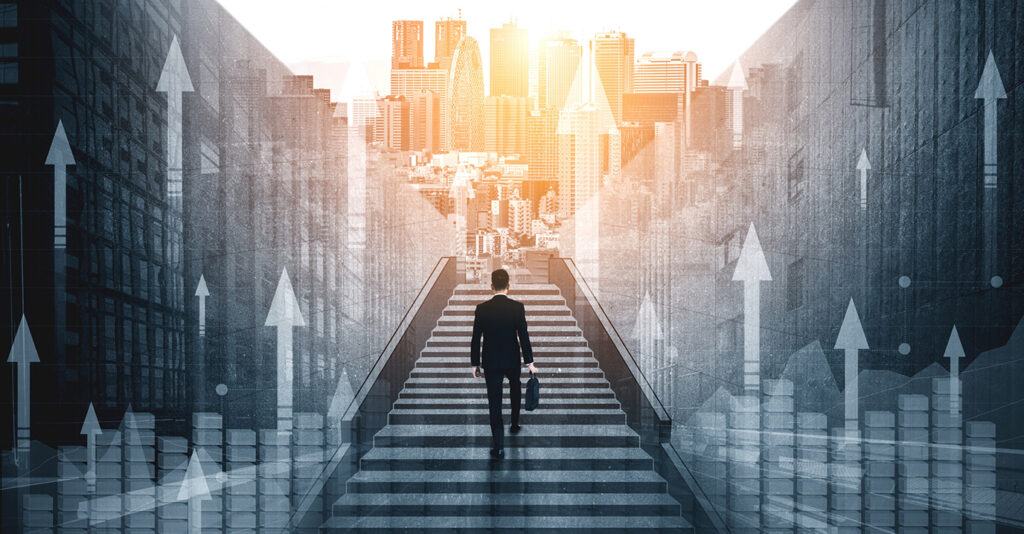 Study mode:  weekend 
Study duration:  20 months (4 semesters) 
Language of studies:  english 
Our International MBA Program has been ranked #2 in Poland in the "Quality of faculty" category (right after Warsaw School of Economics!) and #6 in the "Quality of students" category in "Perspectives" ranking!
International MBA program at WAB has achieved the Professional Class quality standard in the Forum 2020 MBA Program Rating of the Association for Management Education and has been awarded the "Studies with a Future" certificate and seal of quality.
The University of Business in Wroclaw offers a unique, top quality MBA program created with and for professionals from different industries and countries around the globe. Our students receive a master's degree in management and also a certificate awarding MBA Degree awarded in partnership with prestigious HHL Leipzig Graduate School of Management, Germany. Our program is competitive, as it offers 500 hours of intensive and interactive business teaching and practicing, which is delivered by top quality academics and business executives from our country and from abroad.
The MBA offered by our university is held in 100% in English, which is now considered to be the world's language of business. That is why our program is also suitable for foreigners – almost half of our students come from abroad, which gives the program a truly international dimension. Our classes are lectured in 50% by professional international faculty coming from our partner universities (from such countries as Germany, Austria, France, Denmark, USA, Canada) and in 50% by English-speaking domestic faculty having specialized experience in different business areas.
Certificates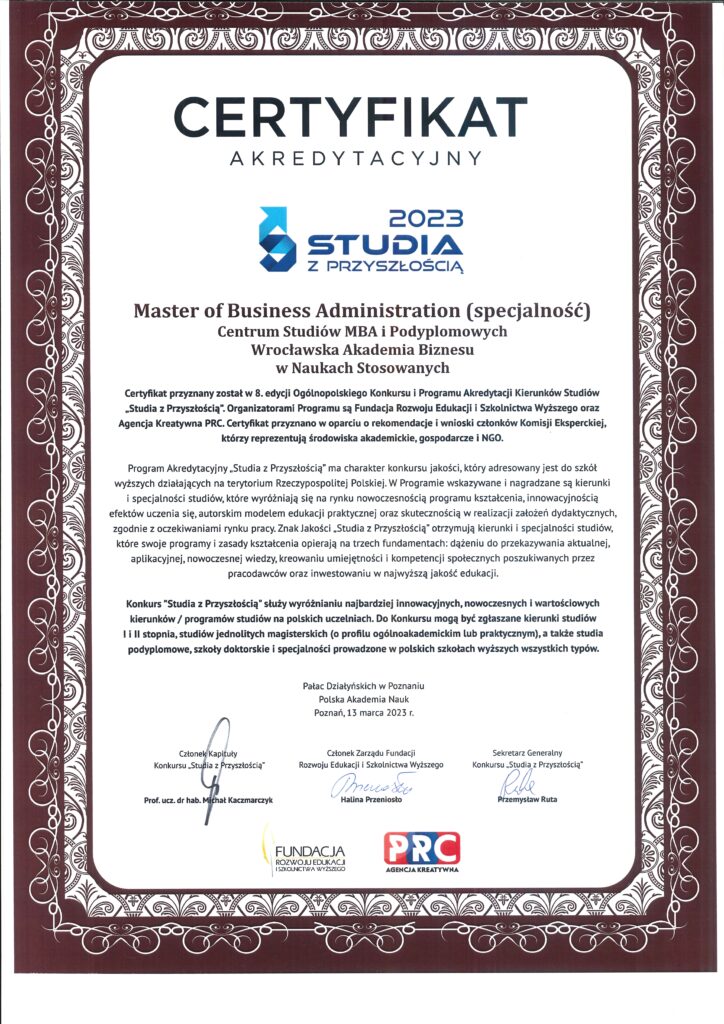 Choose International MBA in WAB in Wrocław
Diploma Graduates of the International MBA program will receive a master's degree in management from the University of Business in Wroclaw, specialization: Master of Business Administration and a certificate confirming completion of MBA postgraduate studies in cooperation with HHL.
The mission of the MBA program at the University of Business in Wroclaw is to educate future managers and professionals who will meet the challenges of the 21st century. Our goal is creating effective and responsible professionals having the ability and confidence to attain senior management positions and develop the skills necessary to progress to a genuine leadership role. Our MBA gives its graduates a cutting edge in a fiercely competitive employment market and offers them the highest degree of the initiation into the real business.
Internationally recognized strategic partner
International MBA program at WSH has been based on the curriculum of our partner university HHL Leipzig Graduate School of Management. We are proud of this fact because our partner is one of the best business universities in Europe and thanks to the fact that we learn from the leader, we can provide a high quality MBA program, locally in Wroclaw.
Show less
The MBA Program we have created ia a completely exclusive product of distinct orientation on leadership which is tailored to contemporary student's needs and aimed to fulfill their rising expectations. It offers over 500 hours of intensive and interactive business teaching and practicing which provide students with sound and completely organized theoretical and practical knowledge. We opt for superiority of practice over theory – the know how is crucial for success in today's rapidly changing business world.
The studies are held exclusively in English. During all the classes students and lecturers communicate only in English. All didactic materials, such as case studies, presentations, databases, exercises, business simulation games, specialist literature, reading materials – are accessible only in English.
Core modules:
Business Fundamentals
Leadership Skills
International Challenges
Advanced modules:
Managing Society
Managing Customers, Employees and Processes
Managing New Ventures and Growth
Mangerial Economics
Contemporary Management Concepts
Management of Organizations
Financial Management of Enterprises
Marketing Management
Business Law
Quantitative Managerial Techniques
Coaching in business
Negotiations in business
Teambuilding and leadership
Public speaking
Meetings with leaders
International Business
Intercultural Communications
International Marketing
Foreign Language
Managing Public Relations
Sustainable development and CSR in pratice
Managing Customers, Employees and Processes
Human Resources Management 
Process Management 
Project Management in pratice 
Supply Chain Management 
E – business 
Managing New Ventures and Growth
Applied Corporate Finance
Strategic Management
Risk Management
Change Management
Innovations in Organizations
05-06.03.2022
19-20.03.2022
02-03.04.2022
23-24.04.2022
14-15.05.2022
28-29.05.2022
Registration Fee 
Studies cost (4 semesters) 
2 Basic Instalments 
4 Basic Instalments 
8 Basic Instalments 
16
Basic Instalments
700 PLN
42 000PLN* 
22 050 PLN 
11 288 PLN 
5 775 PLN 
2 953PLN
150 EUR
8 955 EUR*
4 701 EUR
2 407 EUR
1 231 EUR
630 EUR
* Przy płatności z góry / * In advance payment
ZNIŻKA EARLY BIRD / EARLY BIRD DISCOUNT:
DO 30 CZERWCA 10%
1.07 – 15.09 – 5%
ZNIŻKA DLA FIRM ZGŁASZAJĄCYCH CO NAJMNIEJ 2 OSOBY: 15%
All fees should be directed to the following account: 

Bank Ochrony Środowiska
PL 76 1540 1030 2103 0004 9462 0004 – rachunek EURO
PL 60 1540 1030 2103 0004 9462 0001 – rachunek PLN
Rok akademicki /academic year 2023/24
Daty zjazdów / dates of classes
I SEMESTR
1.
21-22.10.2023
2.
04-05.11.2023
3.
25-26.11.2023
4.
09-10.12.2023
5.
13-14.01.2024
6.
10-11.02.2024
(7.)
(24-25.02.2024)
II SEMESTR
1.
09-10.03.2024
2.
23-24.03.2024
3.
13-14.04.2024
4.
27-28.04.2024
5.
11-12.05.2024
6.
15-16.06.2024
(7.)
(29-30.06.2024)
Whether you are looking for a career change, a new start in life or simply a new qualification, we invite you to apply to the University of Business in Wroclaw. We will provide you with support and expertise needed to develop your talent and skills!
MBA at WAB in Wroclaw allowed me to confront myself with other professionals and to be constantly challenged
Doing an MBA has been one of my dream since I started my initial studies. We decided to choose the program together with my husband and we reviewed each offer of such education available locally. International MBA in WSH definitely took the cake!
MBA at WAB in Wroclaw allowed me to confront myself with other professionals and to be constantly challenged. Not only implemented jointly with prestigious HHL Leipzig Graduate School of Management from which the professor's staff came to the classes but also, I could work on case studies and to share experience with the group of top professionals from different sectors.
This allowed me to identify my strengths and weaknesses and to become more aware of my abilities. I started the studies with the position of Project Manager in IT sector and very quickly the knowledge I gained during weekend programs enabled me to build better relationship with our customers and internal teams and my project has been awarded for its efficiency. I could not believe it is possible to learn and to implement on daily basis so many new things in such a short time. I had to make a break in my career as beginning of second year in WSH coincided in time with an enormous change in my personal life as I became a mother.
Here again WAB offered me a great support and I could complete the program on time, while doing second year remotely. I will come back to work well-armed with business and managerial competences, which I do believe will offer me new challenges and great opportunities.  
Katarzyna Trzos Skurska
Advisory Project Manager
IBM Delivery Transformation Department, Automation Projects
I got an opportunity to meet outstanding people and share experience with them
MBA Studies at WSH Wrocław was a great time for me. Not only I was able to develop skills needed in my daily business life, but also I got an opportunity to meet outstanding people and share experience with them.
The goal that I have set in front of me was to add outstanding position to my resume, that will help me in future carrier. After MBA studies, I am sure that it was achieved. I would like to recommend MBA studies to all ambitious and carrier-oriented people.
Michał Miszczuk
Service Desk Team Leader
MAHLE
It was really an added value to my professional career
It was 2 years full of knowledgeable, fruitful & rich experience.. Honestly i liked the fact of exchanging experience & ideas on different levels during our sessions. Approaching my mid-senior managerial level with such an experience gathered from academic study like MBA & practical daily life experience from lecturers and colleagues, i acquired a deep knowledge about the business trends nowadays. Also, the international environment in the classroom creates a warm atmosphere to exchange knowledge and experience in different parts of the planet. It was really an added value to my professional career.
Joseph S. Naguib
MBA Alumnus 2019
The International MBA program allowed me to systematize my knowledge and to deepen it
The International MBA program allowed me to systematize my knowledge and to deepen it. As a result, I was able to relate to it more freely and naturally in business practice situations. The combination of business experience with the knowledge acquired in the International MBA Program gave me the opportunity to make more accurate decisions in my everyday work. However, the International MBA Program is not only the knowledge and experience I gained from the lecturers, but above all it is people from many industries, with a lot of experience and willingness to cooperate – it is simply a great opportunity to develop yourself in a pleasant atmosphere.
Alina Niewelt
MBA Alumna 2019
My MBA has enabled me to progress in my career
I would definitely recommend the MBA at WSH Wrocław because it's good value for anyone who wants to succeed in management and organizational leadership.
My MBA has enabled me to progress in my career and be the type of employee who pushes an organization to greater heights.
I gained lots of practical knowledge, new experience both from lecturers and students and had a chance to meet people from other countries and cultures.
Lectures and practical classes related to marketing, development and company strategies, management and negotiations allow me to promote to the position of Business Development Manager in my company.
Michał Stanosek
MBA Alumnus 2019
First of all, we encourage candidates to fill in the online application form. However, we would like to remind you that admission is determined by a set of documents, which can be sent by traditional mail, by scan to the following address [email protected] or submitted personally to the office of the International Centre for Postgraduate and MBA Studies.
The final stage of the recruitment process is an interview with the Recruitment Committee, during which we want to learn more about the professional career of our candidates, their expectations from the study program we offer, and to find out what motivates them to take up MBA studies at University of Business in Wroclaw.  
Admission Requirments 
MBA applicants should have at least two years of professional experience and a bachelor's or master's degree. Further requirements include a copy of the applicant's Curriculum Vitae, two letters of recommendation, and a letter of motivation. 
English proficiency certificate will also be required unless the applicant is a native of an English-speaking country. If a candidate cannot submit an adequate certificate, there will be Business English examination in the form of WAB Admission Test. 
MBA interview will be held to access the candidate's potential to join the MBA Team. The Recruitment and Admissions Office will contact all candidates in order to obtain more information if necessary, before the invitation for an interview (which is the final step of the recruitment program). The interview is held in English, in front of the Recruitment Committee and relates to the applicant's educational and professional background, his/her motivation to pursue the MBA studies and particular expectations for this program. 
Required documents 
Completed application form 
Certificate of English proficiency (or passed internal WAB English Exam) 
Two letters of recommendation 
CV 
Confirmation of minimum 2 years of business experience 
One photo (35×45 mm) 
One photo in electronic form (for student's electronic ID card) 
Copy of the diploma of completion of first-cycle studies (and a certified translation into Polish – for foreigners) 
Supplement or excerpt of study register (and its certified translation into Polish – for foreigners) – applies to Polish universities' graduates who completed their studies after 2005 
Signed education agreement with attachments in two copies in English and two copies in Polish (to be signed at a later time) 
Proof of payment of non-refundable administration fee (PLN 550/EUR 120) 
RECRUITMENT IS ON!
CONTACT: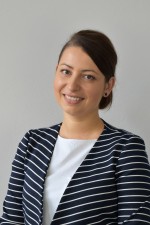 Jagoda Żywczyk
MBA Studies Specialist
e-mail: [email protected]
phone: +48 71 333 11 81
room 3/14
M.SC MAXIMILLIAN SCHREITER
HHL-Leipzig Graduate School of Management, Germany
Specialization: financial management
Maximilian is Research Associate at the Chair of Financial Management and Banking at the Leipzig Graduate School of Management (HHL). His field of research is corporate valuation using stochastic processes. He joined the business school in April 2014 after two years as Consultant at Roland Berger Strategy Consultants. During this time, he worked for different consumer goods and retail companies in Western and Eastern Europe as well as in Africa.
His academic background was shaped at the Goethe University in Frankfurt/Main (B.Sc.) and at the Leipzig Graduate School of Management (HHL) (M.Sc.). During his studies, he took twice the opportunity for semesters abroad: first at the University of Sydney and a second time at the University of Chicago (Booth School).
Beyond that, Maximilian is an enthusiastic sportsman. He plays tennis since his early childhood for which he also has a coaching license, and he runs in preparation for a marathon. History is another passion for him where he tries to learn as much as possible through reading and traveling.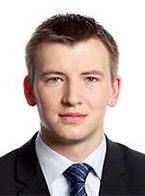 ---
M.SC. CHRISTIAN BRANDS
HHL-Leipzig Graduate School of Management, Germany
Specialization: strategic management, international management.
Christian Brands graduated from HHL where he received his M.Sc. degree majoring in Strategy and Finance. In 2008, he spent a term abroad at the Helsinki School of Economics, Finland. Before joining HHL he graduated in International Management and French at the University of Bath School of Management, United Kingdom and gained work experience in the German retail and consulting industry.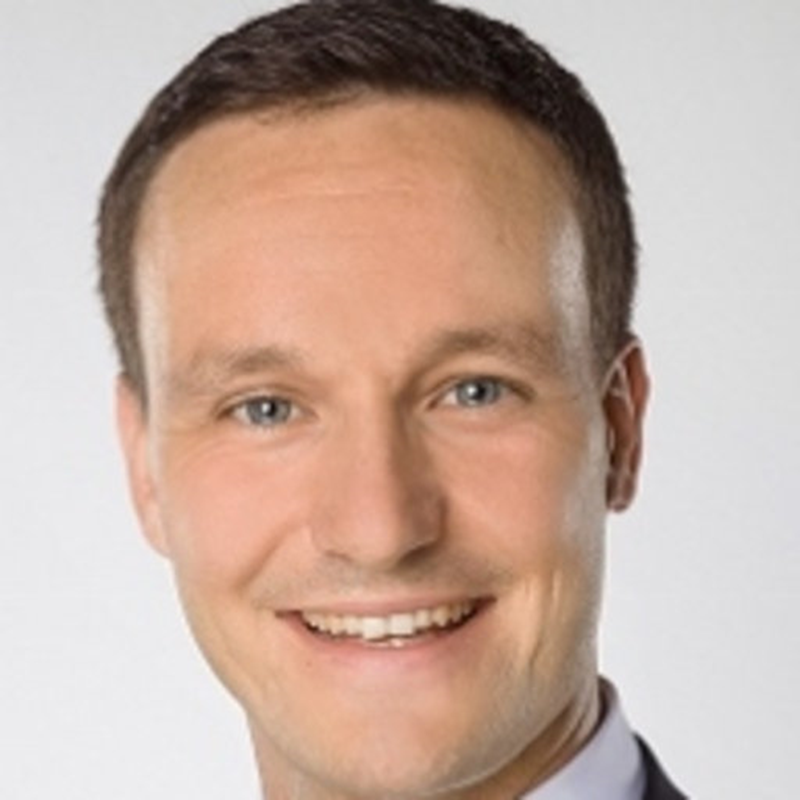 ---
DR. REMIGIUSZ SMOLIŃSKI
Dr. Remigiusz Smoliński – IESEG School of Management, France Specialization: negotiations, decision making
Dr. Remigiusz Smolinski received his Master's degree in International Business from Poznan University of Economics in Poland and completed the PhD program at HHL – Leipzig Graduate School of Management. In his research he has focused on theory and practice of negotiation particularly in international settings as well as on the theory and applications of decision making routines in management science. He was a visiting scholar at Harvard University's Program on Negotiation and Tufts University's Fletcher School of Law and Diplomacy. He also visited and researched at Kellogg School of Management at Northwestern University and Sichuan University in Chengdu, China. Currently, he works as a Country Manager of Easter European marketplaces at mobile.international (eBay) and is Assistant Professor for Negotiation at IESEG School of Management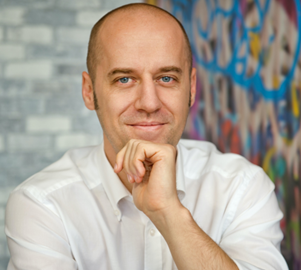 ---
DR PIOTR AMBROZOWICZ
Vice-President of the Management Board Work Service SA Group
Specialization: financial management, international finance
Graduate of the Wroclaw University of Technology's faculty of Marketing and Management. Awarded a Doctorate in Economics from the Wroclaw University of Economics.
Mr Ambrozowicz brings astute financial management skills earned at Fagor Mastercook, a leading home appliance manufacturer and Skanska (leading construction company). At Fagor he was Member of the Board and Vice President of Finance as well as the Director of Controlling Fagor Group. He was responsible for implementing the Polish subsidiary's financial, processes in line with the group's international standard in controlling, bookkeeping and reporting.