Wspomnienia z wyjazdów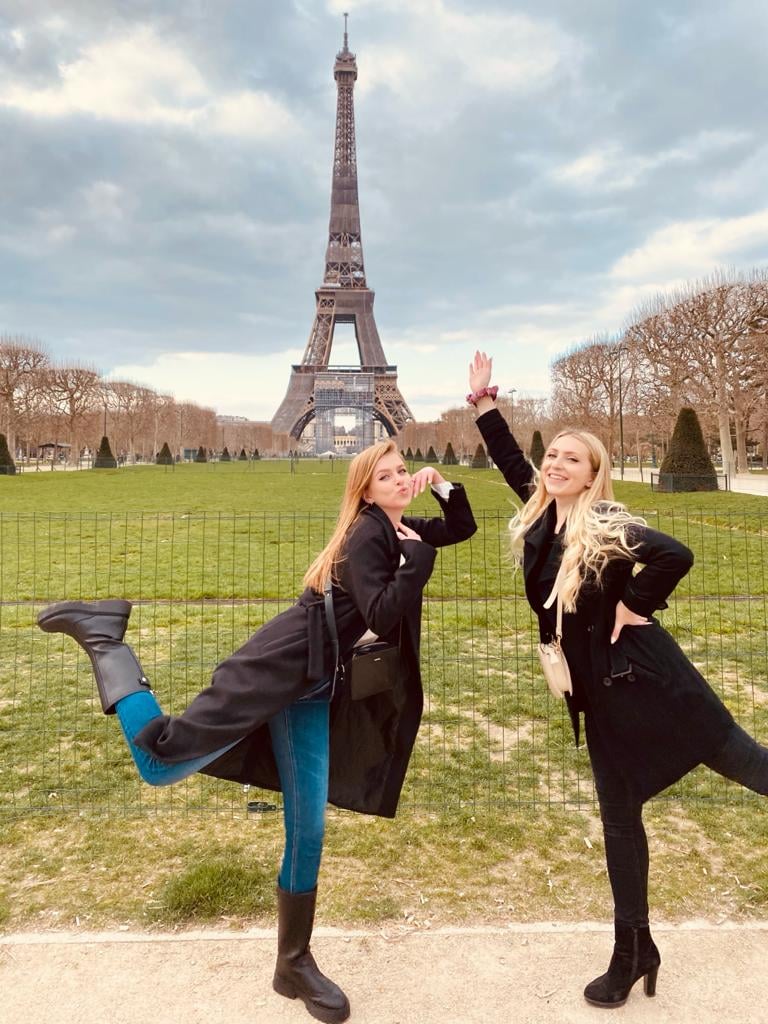 Komentarze naszych studentów
Mykyta
This project gave me what I had been missing for many years:
– understanding that no one speaks English perfectly, and one should simply speak, not be afraid of mistakes, the main thing is not the perfection of sentences, but understanding between interlocutors
– knowledge of French culture from the "middle"
– many friends around the world;
– knowledge of many different cultures, understanding that we are all human and neither eye color nor body color or nationality should divide us
– understanding that absolutely everything can be solved, the main desire; if there is a real desire, neither ignorance of the language, nor lack of money, nor anything else will be an obstacle
– getting to know the real Paris and getting to know France; made it possible to understand that everything must be looked at from different angles
– and most importantly, Erasmus gave me the opportunity to grow up and discover many interesting places for myself and create unforgettable memories with new friends with whom we will 100% meet again and travel to visit each other again.

Thank you very much to the Erasmus+ office at VAB and to Paulina, they were always there, from the very beginning when choosing a university to the very last moment when I handed in the last necessary document upon arrival. They helped with any question. The Erasmus + program is a great opportunity! If I were asked if I wanted to repeat this experience, I would agree without hesitation.
Don't be afraid. Take a risk. Try it. This experience is really important and unforgettable.
Diana
As a student who completed Erasmus program, I would definitely recommend you to go for an exchange as well! At first it may be difficult to get used to new place and people around, but as soon as few first days pass, you'll dive into the best experience in your life. For my exchange I've chosen Lithuania. Honestly, may be a bit boring destination, but we travelled a lot with my friends and managed to visit new country every month. It was a semester filled with memories I'll cherish till the rest of my life 🙂
Anna
For me, my first Erasmus mobility divided my life into "before" and "after". Before that, my eyes seemed to be blinkered and I saw only the standard paved path of life. However, it was during my first trip that I realized how vast and diverse this world is, because for the first time I felt like not a tourist in a new place, but a full-fledged part of it. And with each place, not only my views expanded, but also prospects with opportunities. I became bolder, began to think freely and now I look at this life and the world from a completely different angle. This is an unforgettable transformative experience that I recommend everyone to experience at least once in a lifetime. No ordinary move to another country or trip can compare with what Erasmus gives you. After all, in addition to the new environment, challenges and "starting from scratch" you get new friends, knowledge available only to local residents and unforgettable adventures that are included in the package. At the same time, you have an amazing opportunity to visit several places during your studies. I am very glad that I was able to participate in this program, which expands the horizons and connects young people around the world.
Olena
I would like to thank you for all the work you have been doing helping students to take part in the Erasmus+ Program at this university! It gives a completely new view of the world, new friends and getting to know new cultures and the improvement of the foreign languages. Exactly the same was in my case! It was the best experience and student life! All thanks to you, Mrs. Paulina!
Big hugs!
Magdalena
I have always dreamt of going for the Erasmus+ exchange! For me this program has always been about meeting new people, discovering and exploring a new country but most of all having a good time and fun! That's my exchange to Belgium about! At the beginning it was hard for me to open for a new culture, people's appearance and different language. Everything seemed to be foreign and still fascinating! During my stay I was able to travel and 'immerse' in the Belgian culture. I have made friends with Erasmus+ people but also with native students, each and every one was extremely kind and helpful. These couple of months were the best in my life and I highly recommend everyone to experience something like this!

Thank you very much for your support, lot of patience and advice. I am glad that you were my Erasmus+ coordinator!
Olha
My Erasmus+ experience was amazing! One of the most crucial attractions and experiences was an opportunity to meet and getting to know people from different countries and cultures. The diversity of perspectives and environments enriched my understanding of the world and broaden horizons. It was a priceless experience that every student should have.
Viacheslav
My experience as an Erasmus+ exchange student did not disappoint my expectations, despite some obstacles I had to face. It was a truly transformative journey that allowed me to immerse myself in a new culture, meet incredible people, and expand my academic horizons. I would gladly seize the opportunity to study in another country again, as the Erasmus+ program offers unique and enriching experiences that stay with you for a lifetime. As they say, 'Once Erasmus, always Erasmus.'