Management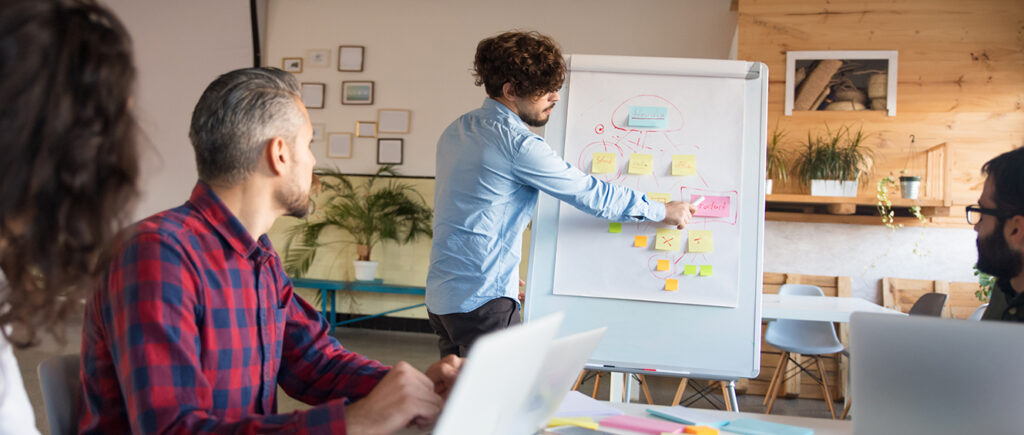 University mode: Full-time
Duration: 2 years (4 semesters)
Language used: English
Are you interested in a master's degree in management in Wrocław? Do you want to gain practical knowledge that you will use in your future work? Check out the offer of the Wroclaw Business University of applied sciences! With us you can study project management, find out what Internet marketing is all about and how to manage your human capital.
Study practically – choose Management at WAB
The second degree in management at the Wroclaw Business University of applied sciences lasts 2 years (4 semesters) and is conducted in two modes: full-time and part-time. To educate our students to the best of their ability, the Master's degree in Management includes optional classes – everyone can choose the best way of education for themselves. The management program is divided into 5 content areas:
general,&nbsp>
basic,&nbsp
faculty,&nbsp
practical
We have developed this field so that it stands out with its unconventional approach, while respecting traditional methods.
Wroclaw Business University of applied sciences takes care of a practical program of education in all fields of study. Master's studies in management in Wroclaw include internships and apprenticeships, during which students gain experience and skills in their field of expertise, and thus – self-confidence.
The specialities:
Internet marketing in practice
Sustainable development and corporate social responsibility>
Strategic Human Capital Management
Project management
Modern program of study
Regardless of which specialization you choose, you will acquire knowledge of the field of study after completing this course:
While creating the proposed specializations, the market trends and tendencies were taken into account, so our graduates are well acquainted with today's functioning of the corporation.
Comprehensive education acquired during our master's studies in management is an opportunity to deepen your knowledge and passion. Whatever specialization you choose, you'll learn to analyze the market, manage modern documentation, and quickly make accurate decisions.
Graduate of Management at WAB
Every year, our MA studies in management in Wrocław produce a group of well-educated graduates who are prepared for professional work. Learning at the faculty of second-degree management gives them the awareness that they have been trained from beginning to end, from theory to practice. During your studies we offer two language courses (German and/or English), which are conducted according to modern linguistic methods. At the end of this study you will be able to speak at least one foreign language fluently. In addition to our expertise, we will train you in soft skills, which are necessary in high positions:
communicativeness
creativity
leadership
teamwork
crisis management
Check what other master's studies are offered by the Wroclaw Business University of applied sciences and join the group of satisfied graduates.
The program of studies in the field of Management is a response to the needs of the market – it was fully adapted to the practical profile. This way, our students can be confident that at least 50% of their classes will focus on providing and developing practical professional skills. Both the choice of subjects and the form of their implementation are adapted to the current requirements of practice and meet with recognition from employers.
Organization management
Strategic HR management
Marketing management
Multicultural communication
Financial management of enterprises
Managerial Economics
Quantitative methods of management
Polish/German/Spanish/English
Business negotiations
Innovation in enterprises
Project management in practice
Sustainability and CSR in practice
Strategic management
Modern management concepts
Management accounting
Foreign language in management A2
Seminary 1
PR management
Practice
Process management
Change management
Law in business
Seminary 2
Subject of specialization 1
Subject of specialization 2
Subject of specialization 3
*The list of specialty subjects is in the SPECIALITIES tab
Team building and leadership
Examination of professional competence
e-business
Enterprise value management / Analysis and financial evaluation of the enterprise
Seminary 3
Subject of specialization 4
Subject of specialization 5
Subject of specialization 6
*The list of specialty subjects is in the SPECIALITIES tab
Wroclaw Business University of applied sciences has a transparent payment system. We guarantee permanent fee throughout the duration of the study period. We invite you to familiarize yourself with the current table of fees.
If you have any question or require any further information, please contact our Recruitment Office – phone: +48 71 333 11 07.
In the Management course we offer you a course in five specialties:
Internet marketing in practice
Internet marketing is one of the most dynamically developing branches of marketing. More and more organizations move their activities to the network to use its potential to build a brand and look for potential customers. Within the specialization "Internet Marketing in practice" you will gain knowledge and skills in the field of SEO (activities promoting websites in search engines), viral marketing, social media, video marketing, etc. You will learn about activities aimed at developing a strategy for launching a product in the market, its promotion, as well as PR activities – using the Internet. You will understand the specificity of the digital community, learn how to create online campaigns or use mobile applications for marketing purposes.
Subjects of specialization:
Internet marketing strategies
Internet marketing tools
website positioning
Google AdWords and Analytics
social media marketing
e-PR content marketing
Sustainable development and corporate social responsibility
Sustainability is a process of change that ensures that our needs are met without compromising the development opportunities of future generations. As a student of this specialization you will gain knowledge and skills in politics and strategies of continuous economic and social development without harming the environment and natural resources, on whose quality depends the continuation of human activity and further development. You will get to know the benefits and difficulties encountered by enterprises interested in taking action in the area of building social capital.
Subjects of specialization:
Strategy of sustainable development and corporate social responsibility
Integrated environmental management
Waste management – circular management
Green management of human resources
Ethics in business
Sustainability and CSR reporting
Strategic Human Capital Management
Modern dynamic changes in the organization's environment and shortages in the labor market require a strategic approach to human capital, which consists of employees' competences, knowledge, skills, motivations, behaviors and attitudes towards work. Within the Strategic Human Capital Management specialization you will gain knowledge and skills in the field of contemporary challenges in the field of intellectual capital: talent identification and development, multiculturalism and internationalization, coaching and mentoring. You will also learn about the recent popularity of personal and employer branding, and during the internship classes you will learn how to build brand management strategies.
Subjects of specialization:
International aspects of human capital management
Coaching and mentoring in an organization
Employer branding
HR project management
Labor law in the international dimension
Managerial career development
Project management is the answer to the needs and challenges of the market. The growing popularity of the project approach creates a demand for specialists: both members and project team leaders. This applies, it should be stressed, to virtually every industry. During your studies you will gain knowledge and skills in the methods and techniques of managing various projects. You will be ready to create an analysis of the organization and, using the right methodology, you will take action to change and improve it. Professionals – practitioners – will provide you with their experience in, among others, scheduling, budgeting and team management.
Subjects of specialization:
International project management methodologies
Tools for project analysis and planning
Project team management
Financing of projects
Project risk management
Monitoring and evaluation of projects
Become a member of Wroclaw Business University of Applied Sciences!
The order of applications and the submission of the full set of required documents decides on admission.
Admission for the fall semester 2023/2024
is open until 31.08.2023!
Start of studies: October 2023.
Check out the recruitment procedure HERE.
CONTACT FOR CANDIDATES