LanguageCert LTE English exam

HOW DO I TAKE THE EXAM FROM HOME/OFFICE?
Official LTE Certificate website, click here.
In today's globalized world, knowledge of English at the B2 or higher level is a basic requirement in the labour market. A certificate providing an official, independent confirmation of your language competence, will guarantee you a much stronger position among other candidates. It will raise your chances to get an invitation to an interview and start your career.
Vistula is an accredited LanguageCert Partner. Due to the pandemic, the exam is currently available only online. When the situation allows, you will be able to take it at the University.
LTE is an English language certificate addressed to adults who are planning to start a professional career in an international environment. It confirms the level of proficiency you will be able to handle at work, in the office, during travels. It is also a sign that you are familiar with the market expectations, you are an ambitious person ready to invests in your own development.
LanguageCert Test of English (LTE) is the most practical and cutting-edge language certificate in the world. Modern technologies and LanguageCert focus on candidates' comfort and respect for their time allow for the exam to be taken from the candidate's home, while maintaining exam integrity and ensuring safety of the test-taker.
The certificate has an unlimited validity.
After completing the online exam, you will receive your result immediately, on a scale from 0 to 100 points. Points are translated into Council of Europe (CEFR) levels as follows:
| | |
| --- | --- |
| Council of Europe (CEFR) level | LTE exam scores |
| C2 | 90-100 |
| C1 | 75-89 |
| B2 | 60-74 |
| B1 | 40-59 |
| A2 | 20-39 |
| A1 | 10-19 |
| 0 | 0-9 |
YOUR RESUME = YOUR PROFESSIONAL IMAGE
B2 level according to the CEFR is the most sought after English level by the employers, graduation criteria at majority of universities
How do you inform your employer about your English level?
English Certificate in your resume/CV sends a clear message – you have a formal proof of your language skills, makes you stand out
LTE exam results in your CV will get you invited to a job interview much faster
LTE Certificate in your application is also a sign you are an ambitious individual who wanted to do more than just the required minumum, it is your investment in yourself
YOUR TIME IS MOST VALUABLE
The 'exam day' will be reduced to only the exam time – you will only spend time taking the test
You will not spend time travelling, waiting for the exam session to begin
You will make the exam fit your schedule, not the other way round
You can take the exam at any selected time of day or night, 24/7
Rescheduling is possible with no extra charge until 48 hours before the exam time
You will learn your score immediately after the exam, you will receive your Certificate within 2 business days!
THE EXAM YOU WILL ALWAYS PASS, WELL ALMOST
Your score will be between 0 and 100 points mapped to the CEFR level on your Certificate
B2 level starts with 60 points, see scores and CEFR levels
Exam questions will adjust to your exam performance, LTE is an adaptive exam which means that each next question you see is based on how you answered the questions before, the more correct questions, the higher your score and difficulty level of the test
LTE IS THE EMPLOYER'S CERTIFICATE
LTE certifies your English skills in the working environment, confirms your ability to function in office and business context
LTE boosts your credibility, the authenticity of your Certificate can be confirmed within seconds on LanguageCert Certificate Verification website
How to take the exam from home / office?
We are an Accredited LanguageCert Partner: LanguageCert Online Examinations Partner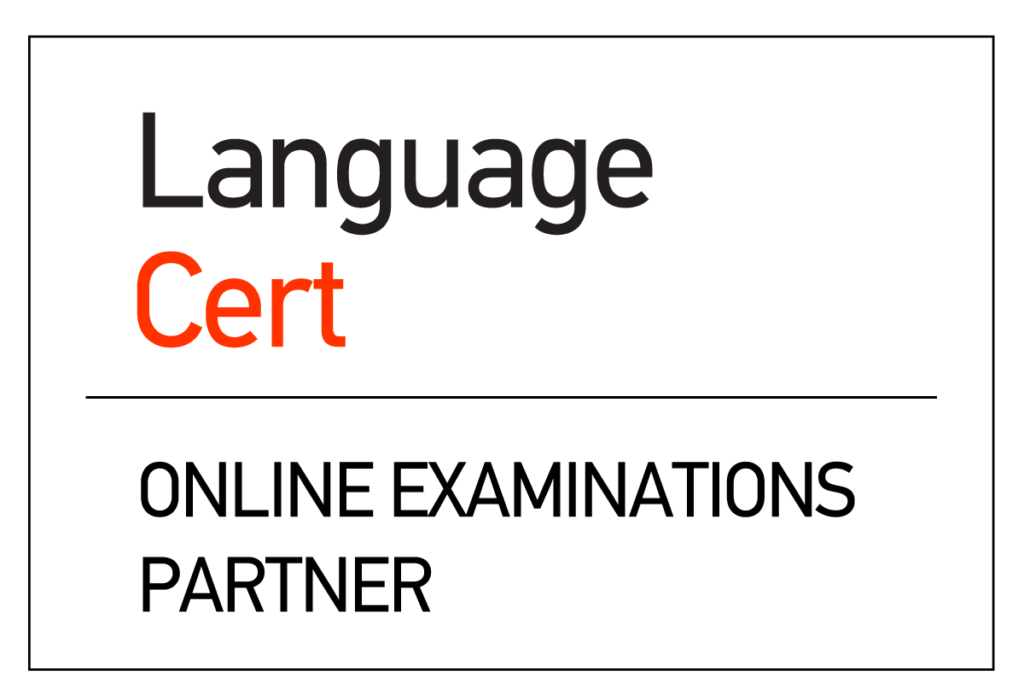 Write to our LTE coordinator per e-mail: [email protected], to get the code/voucher for LTE exam. You will get it on your email. Then follow the instructions.
Watch the movie and see how you can pass the exam from home and how to register for it.
Go to the website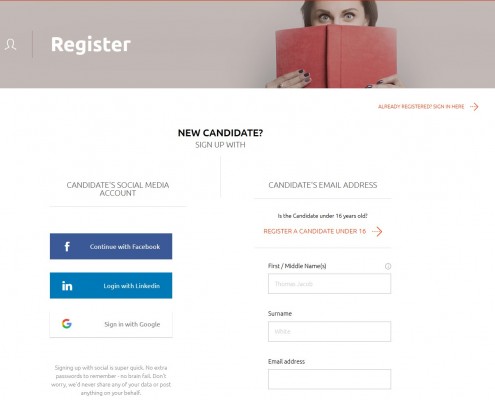 Complete the fields and click JOIN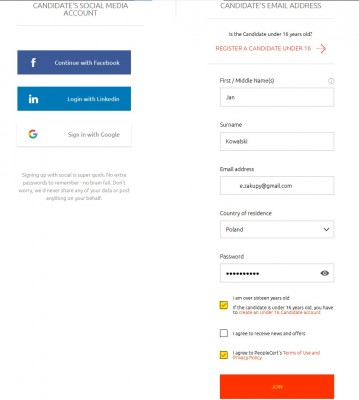 Copy and paste your code from the email into the box 'Have an Exam Code…' and click CONFIRM

Complete your profile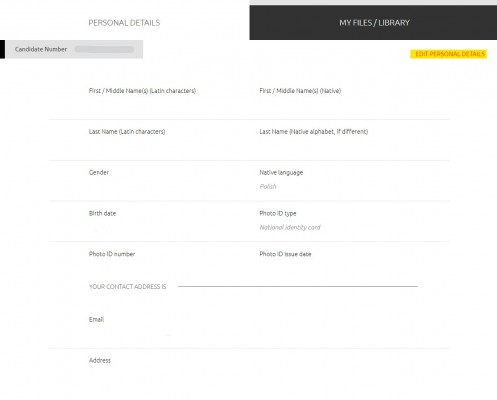 VERY IMPORTANT
Choose the type of document you will show your examiner later during the exam.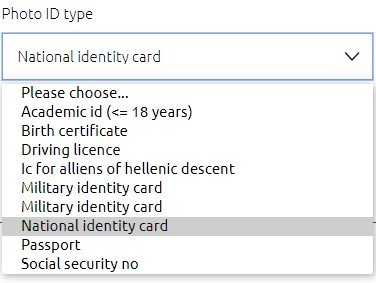 In the First/Middle Name(s) (Latin characters) field, type your first name(s) WITHOUT Polish characters (no diacritical marks). Enter your first name(s) as they appear on your ID card.
In the First/Middle Name(s) (Native) field, type your full name(s) with Polish characters or special characters. Enter your first name(s) as they appear on your ID card.
In the Last Name (Latin characters) field, type your name WITHOUT Polish characters (no diacritics). Enter your last name as it appears on your ID card.
In the Last Name (Native) field, enter your full name with Polish characters or with special characters. Enter your surname as it appears on your identity card.
A discrepancy between your profile data and the data on your ID card may prevent you from taking the exam
Your data is fully secure and is stored in accordance with LanguageCert's Privacy Policy
Fill in the other required information and click CONFIRM MY EXAM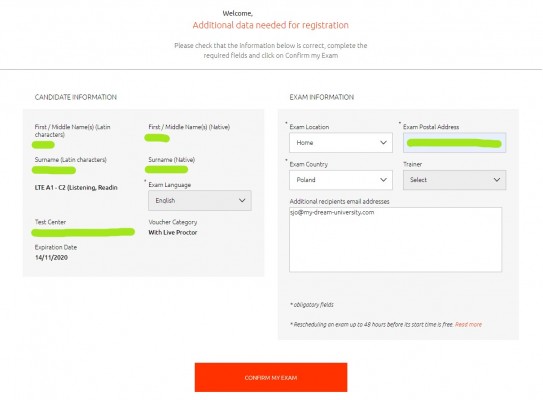 Select a date and time to start the exam
Set your time zone, by default it is set according to your computer settings.
Using the arrows, select the date when you want to take the exam.
Select the time slot in which you would like to select the start time of the test.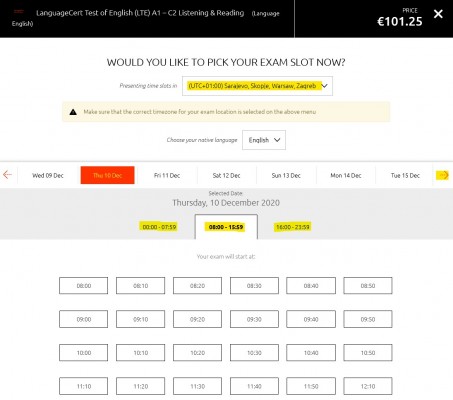 Once you have selected a test start time, click Update Selected Slot to Basket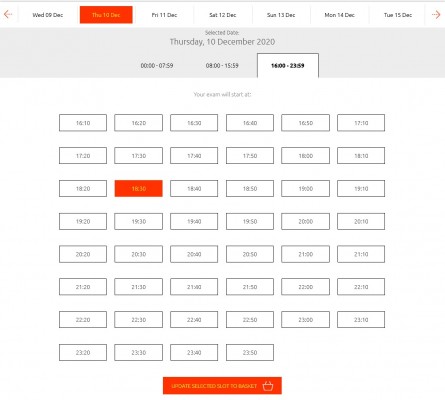 Once your registration is complete, you will see the following screen

You will receive an email confirming your test date selection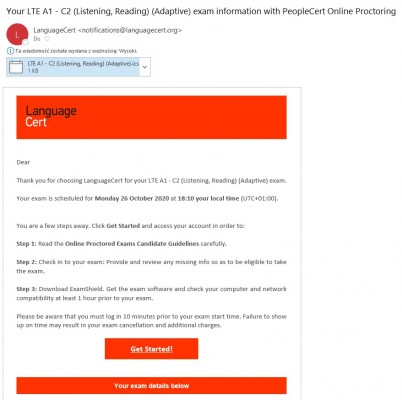 On your profile on the LanguageCert website you will see a summary of your chosen exam and the date you will take it, as well as a link to download the exam application – EXAM SHIELD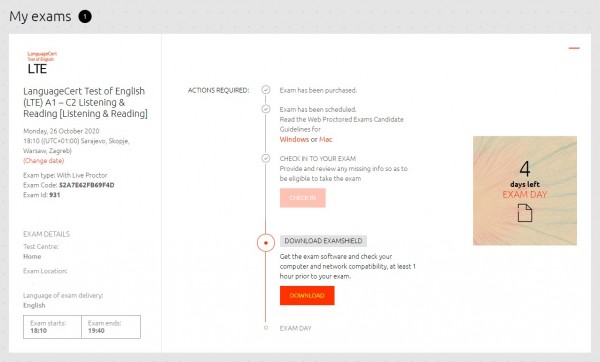 Connect headphones (wireless headphones cannot be used), webcam and microphone.
Download the EXAM SHIELD application by clicking on the DOWNLOAD link, a download window will open, read the license and click Accept and Install Windows client. (Refresh the window if the download screen does not appear within a few seconds).
The installation of EXAM SHIELD can also be done at least one hour before the exam, but then you may not have enough time to, for example, solve a problem. It is recommended to do it earlier.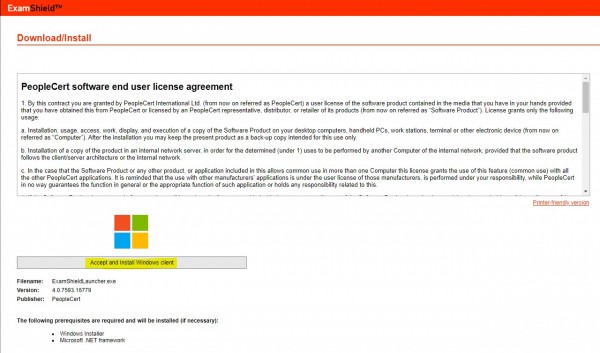 Agree to install the application, installation will begin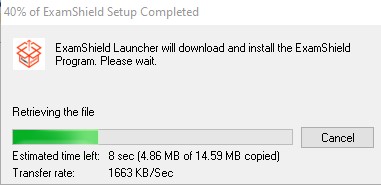 The application will install itself on your desktop, open it and click CHECK SYSTEM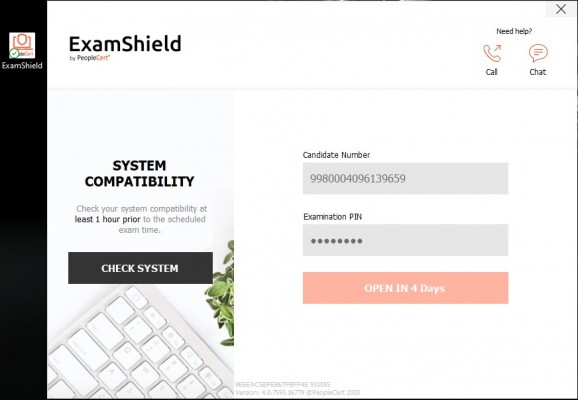 The application will perform a series of tests on your computer, a system test, an audio test (microphone and headphones) and an internet speed test. At the end you will see a summary, listing any problems. If everything is OK, you will be able to close the app and return to it only 10 minutes before your scheduled exam time.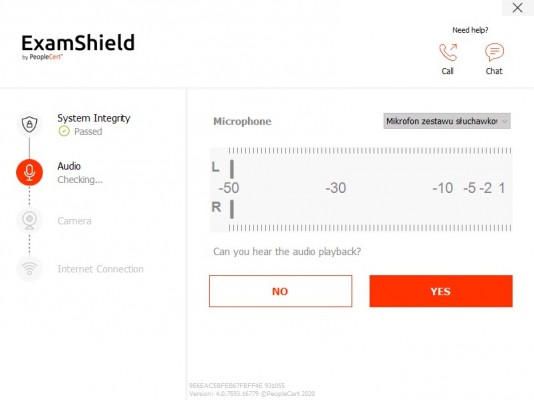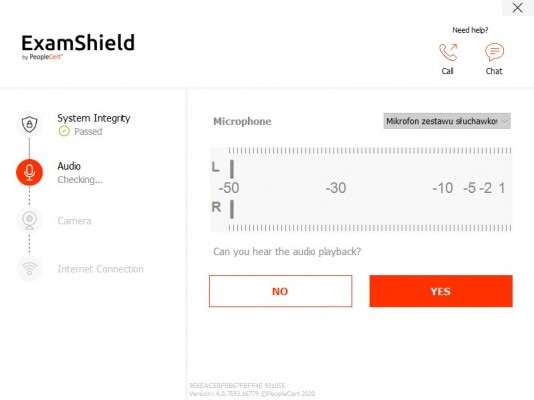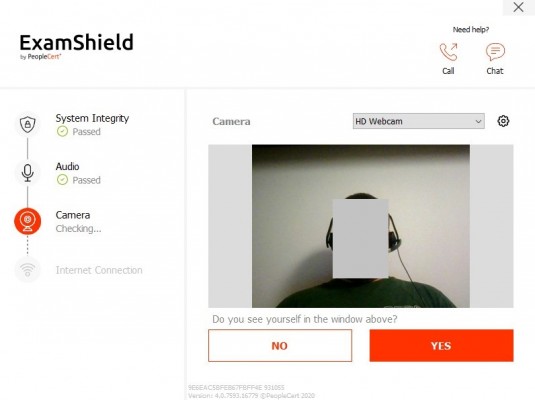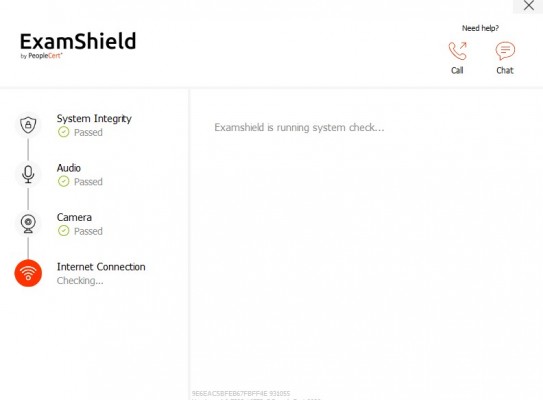 Once you have completed the tests, close the app and return to it approximately 15 minutes before the exam date. Save your chosen date so you don't miss it, you can change your chosen exam date at no extra charge 48 hours before the exam.
ON THE DAY OF THE EXAMINATION:
Make sure that no one else is in your room/room but you
Make sure there are no papers, books or other materials on your desk/table
Silence your phone and put it out of reach, in exceptional circumstances a LanguageCert representative may wish to contact you by phone
The Observer/Examiner will ask you to show them your room before the exam starts, they will ask you to turn the camera 360 degrees and show them the room and your desk)
Contact information:
If you need help registering, want to complete your profile or have questions about the exam, take a look at this page:
https://www.languagecert.org/en/help-and-support
You can use the very convenient and immediately available chat option or call the Polish phone number: +48 22 306 08 54.
You can also contact us by e-mail: [email protected]
Good luck for the exam!!!!
THE PRICE OF THE EXAM: 105 Euro
Please direct all payments to the account below:

Bank Ochrony Środowiska S.A.
ul. Swobodna 1,50-088 Wrocław
Opłaty w EURO / For payment in EURO:
BANK ACCOUNT IBAN: PL 76 1540 1030 2103 0004 9462 0004
With the note: LTE exam and First and Last Name
After completing the transaction, please send confirmation of the transfer to the email address [email protected] , after which the exam code will be generated for you and sent to you in an email reply.
University address details:
Wrocławska Akademia Biznesu
Ostrowskiego 22
53-238 Wrocław
IBAN: PL
SWIFT: EBOSPLPWXXX